Your business needs locks, and the locks need us.
Commercial properties require more protection than residential ones because massive deals happen, and confidential information is stored at these places. This makes them the prime target of sophisticated criminals whose access to your workspace could spell doom for your business.
At LACA Locksmith, we provide commercial locksmith services in LA to safeguard businesses. Whether you need help with replacing locks, upgrading locks, rekeying locks, or emergency lockouts, we offer high-quality, affordable service that brings peace to your life. We can also help you choose an ideal locking system that will protect your business like a watchman protects the neighborhood.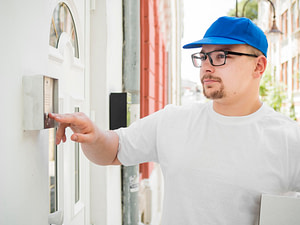 Today, there are several companies in Los Angeles offering locksmith services. However, very few have qualified experts. The good news is that you don't have to go far to find them. Our crew is licensed, insured, and experienced enough to solve all your problems related to commercial locks.
New lock installation on doors
Every business, whether new or old, requires new locks. For a new business, you simply need locks and keys because it doesn't have any. To old firms, it is true when the locks are outdated. You may also need to replace locks if you took a running business from the previous owner. This is to nullify old keys that the previous owners may have distributed to employees or stakeholders.
Regardless of the situation, we can install new locks on all types of commercial spaces regardless of their age or size. Just tell us the time and place to arrive. We will thoroughly analyze your business and deliver the best possible solution.
Repairing old locks
We don't just install new locks. We also fix the broken ones. It doesn't matter if the lock is malfunctioning or the key is damaged.
In case of digital locks, wires might break down.
Only a commercial locksmith in Los Angeles like us can resolve all these issues. We have complete knowledge of how commercial locking systems work because we have been repairing commercial locks for over 13 years. So, don't be afraid to rely on us for lock repairs.
After the repair, we also provide regular maintenance to keep your locks in the best shape possible.
Security installation for safes
Every business has safes to protect confidential information, tools, customer data, etc. At LACA Locksmith, we can secure all types of safes using the best practices. We can also help you find an ideal safe based on your business needs.
As you know, safes at workplaces can encounter various issues, such as broken locks, hardware failure, and forgotten passwords. We have certified experts to install new safes, repair old safes, and break into jammed ones. In addition, we provide regular maintenance to keep your safes, safe. This includes checking the condition of locks and changing passwords regularly.
File cabinet unlocking
File cabinets store essential documents that you need to access repeatedly. Therefore, your file cabinets must function adequately because if they are broken or blocked, your business could halt.
This is where our commercial locksmith company in Los Angeles comes in. We can quickly open or unlock file cabinets without any damage so you can access the required documents as soon as possible. Again, we offer replacement and maintenance services for cabinet locks to keep them in an optimal state. Without maintenance, cabinets can age quickly and become inefficient. Our job is to prevent that.
Lockout service for businesses
Office business or storage lockouts can be stressful when you have a meeting to attend or left important documents inside the building. This may waste your precious time, affect productivity, and result in lost clients. The good news is that we are here to quickly get you out of emergency situations. Whether you lost the key, broke it inside the lock, or forgot the password, we will unlock the door within minutes.
Work with a quality commercial locksmith company in LA
If you ever need help with boosting your business' security, our commercial locksmith service in LA is the best option. We can expertly tackle any situation related to commercial locks, whether traditional or digital. Moreover, we are active round the clock, so you can reach us anytime without hesitation to make your business safe and secure again.