Expert Mobile Car Locksmith Services in Santa Monica – Fast, Reliable and Affordable
Welcome to our mobile car locksmith services page for Santa Monica! As a company based in Santa Monica, we understand the importance of cars in this vibrant city. Whether you need to commute to work, enjoy a day at the beach, or explore the area's attractions, your car is essential to your daily life.
At LACA Locksmith Guys, we specialize in providing fast and reliable mobile car locksmith services to the residents of Santa Monica and the surrounding areas. Whether you need a new key made service, ignition repair service, or doors unlocked service, we have the expertise and experience to get you back on the road quickly and efficiently.
Our Services
Here are some of the services that we offer in Santa Monica:
Car key replacement service – If you've lost your car key or it's been damaged, we can create a new one for you on the spot. We have the latest technology and equipment to ensure that your new key is a perfect match for your vehicle.
Ignition repair service – If you're having trouble starting your car, it could be an issue with your ignition. Our skilled technicians can diagnose and repair the problem quickly, so you can get back to your daily routine.
Door unlocking service – Locked your keys in your car? No problem! We can come to your location and quickly unlock your doors without causing any damage to your vehicle.
Key duplication service – If you need a spare key for your car, we can create one for you on the spot. Having a spare key can save you time and money in the long run, so don't hesitate to give us a call.
Car key programming service – Our experienced locksmiths are up-to-date on the latest programming techniques for all makes and models of vehicles, ensuring that we can provide the programming service you need quickly and efficiently. Our locksmiths have the specialized tools and software needed to program your car key, even if it's a newer model with advanced programming requirements.
Car key fob programming service – We offer programming services for car key fobs as well. Our skilled technicians can program your car key fob to work with your vehicle's immobilizer unit, allowing you to start your engine with ease.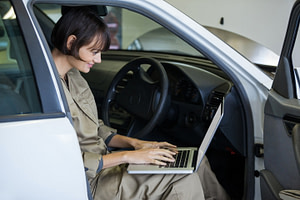 Why Choose Us
At LACA Locksmith Guys, we strive to provide the best possible service to our customers. Here are some of the reasons why you should choose us for your car locksmith needs in Santa Monica:
Availability – We understand that car lockouts and other issues can happen at any time, which is why we offer emergency service. You can count on us to be there for you when you need us the most.
Fast response time – We always strive to arrive at your location as quickly as possible. Our technicians are equipped with the latest tools and technology to ensure that your problem is resolved efficiently and effectively.
Competitive pricing – We offer competitive pricing for all of our services, without sacrificing quality.
Expert technicians – Our technicians are highly trained and experienced in all aspects of car locksmithing. You can trust us to provide you with the best possible service, no matter what the issue is.
If you're in need of a mobile car locksmith in Santa Monica, don't hesitate to give us a call. We offer free quotes and are always available to answer any questions you may have. You can reach us at CLICK HERE.