Locksmith & Security Services for the Dynamic Community in Culver City
Welcome to Secured Solutions, your go-to locksmith partner in Culver City. We take pride in providing a wide range of professional locksmith services tailored to meet the diverse security needs of our vibrant community. Our team of skilled technicians is dedicated to delivering top-notch solutions for automotive, residential, and commercial requirements.
Automotive Locksmith Services
Whether you're locked out of your car or need to enhance its security, our automotive locksmith services in Culver City have got you covered. Here's what we offer:
Car Key Replacements: Misplaced your car keys or need a spare set? Our expert locksmiths can efficiently create new car keys for various makes and models, ensuring you're back on the road in no time.
Car Key Programming: If your vehicle features electronic keys or key fobs, our technicians are well-versed in car key programming. We'll synchronize your key fob with your car's computer system, ensuring seamless functionality.
Ignition Repair and Replacement: Experiencing issues with your car's ignition system? Our skilled team can diagnose and repair ignition problems promptly. Services include ignition switch repair, key extraction, and ignition cylinder replacement to get your vehicle back in working order.
Car Door Lock Repair and Replacement: Whether your car door locks are damaged or require complete replacement, our locksmiths deliver top-quality repair and replacement services. We prioritize restoring your car's security and convenience.
Residential Locksmith Services
Keeping your home safe and secure is paramount. Our residential locksmith services in Culver City include:
Lock Rekeying: If you've recently moved or need to enhance your home's security, our locksmiths can rekey your existing locks. This ensures that only authorized individuals have access to your property.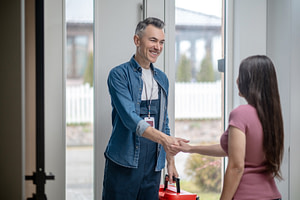 Lock Repair and Replacement: Our skilled locksmiths can repair or replace any type of lock, guaranteeing the security of your home. Whether you need a new lock installation or repairs for malfunctioning locks, we've got you covered.
Home Security Systems: Protecting your home and loved ones is crucial. Our customized home security systems feature advanced elements such as security cameras, motion sensors, and alarm systems, providing round-the-clock surveillance and peace of mind. We tailor the system to meet your specific needs and budget.
Emergency Lockout Response: Accidentally locked yourself out of your home? Our 24/7 emergency lockout response ensures swift assistance to get you safely back inside.
Commercial Locksmith Services
We understand the significance of security for your business. Our commercial locksmith services in Culver City cater to your unique requirements:
Lock Installation and Repair: Whether you need to replace old or damaged locks, install new ones, or repair malfunctioning locks, our experienced locksmiths provide reliable solutions. We specialize in high-security lock installations, master key system installations, and access control systems to keep your business secure.
Access Control Systems: Manage access to your business property and specific areas within it using our advanced access control systems. These systems allow only authorized personnel to enter, enhancing overall safety. One of our main access control system we specialize – Brivo
Master Key Systems↵: Simplify key management and bolster security with a customized master key system for your business. Our team designs and implements systems tailored to your specific needs.
Keypad Installations: Keypad systems offer a secure and convenient solution for managing access to your business premises. Authorized personnel can enter by entering a unique code, while unauthorized individuals are denied access. Our technicians can install and program keypad systems according to your requirements, providing a reliable access control solution.
Why Choose Us?
When it comes to locksmith services in Culver City, we stand out for several reasons:
Availability: We're available whenever you need us, including emergencies.
Prompt Response: Upon contacting us, we prioritize dispatching a technician promptly to address your locksmith needs.
Expertise: Our team comprises skilled technicians with extensive experience in the locksmith industry. They stay updated with the latest techniques and technologies to provide you with top-quality service.
Customer Satisfaction: We are committed to ensuring your satisfaction. Our friendly and professional staff will go the extra mile to meet your expectations.
Don't compromise on security. Choose Secured Solutions for all your locksmith needs in Culver City, and experience peace of mind like never before.