Key Fob Replacement Services
Your Comprehensive Key Fob Replacement Services in Los Angeles
In today's modern automotive landscape, key fobs have become an integral part of our driving experience, offering convenience and enhanced security. At LACA Locksmith Guys, we are proud to provide comprehensive key fob replacement services in the Los Angeles area. From key fob programming and replacement to battery replacement and key fob repair, our skilled technicians have the expertise to meet all your key fob needs. In addition, we offer semi-custom key fob options for those seeking a personalized touch. Read on to explore the range of services we offer and why we are your go-to choice for key fob solutions.
Types of Key Fob Services We Provide
Key Fob Programming: Seamlessly Connect and Control Your Vehicle
Key fob programming is the process of synchronizing your key fob with your vehicle's immobilizer system, allowing you to remotely lock, unlock, and start your car effortlessly. Our technicians are well-versed in programming key fobs for a variety of car makes and models. Whether you have a standard key fob or a more advanced smart key, we have the knowledge and equipment to ensure a seamless connection between your key fob and your vehicle.
Key Fob Replacement: Regain Access to Your Vehicle
Losing or damaging your key fob can be a frustrating experience, leaving you locked out of your own vehicle. Our key fob replacement services offer a quick and reliable solution to get you back on the road. Our team can assist you in obtaining a new key fob and programming it to work seamlessly with your vehicle's security system. We understand the urgency of the situation and strive to provide prompt and efficient service to help you regain access to your vehicle as soon as possible.
Key Fob Battery Replacement: Powering Your Key Fob for Optimal Performance
A weak or dead key fob battery can cause inconvenience and disrupt the smooth functioning of your key fob. Our key fob battery replacement service ensures that your key fob operates at its best. Our technicians will promptly replace the battery with a high-quality one, restoring the power and functionality of your key fob. Don't let a low battery hinder your daily routine – trust us to keep your key fob powered up and ready to use.
Key Fob Repair: Restoring Functionality and Extending Key Fob Lifespan
If your key fob is experiencing issues such as unresponsive buttons or intermittent functionality, our key fob repair service can help. Our skilled technicians can diagnose and fix a wide range of key fob problems, saving you the cost of a full replacement. We utilize advanced diagnostic tools and high-quality replacement parts to ensure that your key fob is restored to optimal functionality, extending its lifespan and saving you time and money.
Semi-Custom Key Fob Options: Personalize Your Key Fob Experience
At LACA Locksmith Guys, we understand that personalization is important to many of our clients. That's why we offer semi-custom key fob options to add a unique touch to your vehicle. Choose from a selection of stylish key fob covers and accessories that not only protect your key fob but also reflect your personal style. Our team can assist you in selecting the right semi-custom options that fit your preferences and vehicle.
Type Of Cars We Serve
| Make | Models |
| --- | --- |
| Ford | F-150, Escape, Mustang, Explorer, etc. |
| Chevrolet | Silverado, Equinox, Camaro, Tahoe, etc. |
| Toyota | Camry, Corolla, Tacoma, Highlander, etc. |
| Honda | Accord, Civic, CR-V, Pilot, etc. |
| Nissan | Altima, Rogue, Sentra, Frontier, etc. |
| Jeep | Wrangler, Cherokee, Grand Cherokee, etc. |
| Chrysler | 300, Pacifica, Voyager, etc. |
| GMC | Sierra, Acadia, Terrain, Canyon, etc. |
And Much More..
Why Choose Us?
Expertise: Our technicians are highly skilled and experienced in working with a wide range of key fob systems, ensuring accurate programming and seamless functionality.
Timely Service: We understand the importance of getting you back on the road quickly. Our team is committed to providing efficient and prompt key fob programming and replacement services.
Wide Range of Key Fob Brands: Whether you have a key fob from a major automotive manufacturer or an aftermarket brand, we have the knowledge and tools to handle it.
Competitive Pricing: We offer competitive pricing for our key fob programming and replacement services, ensuring that you receive top-quality service at an affordable rate.
Contact Us for Key Fob Replacement Services
If you need car locksmith services, don't hesitate to contact the experts at LACA Locksmith Guys. We offer reliable and affordable services for all types of car keys, and our team is dedicated to providing excellent customer service. Call us at (424) 353-4999 or fill out our online contact form to schedule an appointment or request emergency services.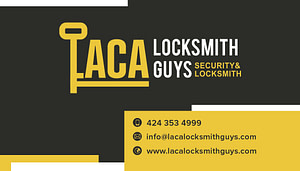 Frequently Asked Questions
1. How much does it cost to replace car key fobs?
The cost of replacing car key fobs can vary depending on your car's make and model, the complexity of the fob, and whether you go to a dealership or a locksmith. On average, it can range from $50 to $500.
2. Can I just buy a new key fob for my car?
Yes, you can purchase a new key fob, but it will need to be programmed to your car's specific codes to work. This typically requires professional help, either from a dealership or a skilled locksmith.
3. Why are key fobs so expensive to replace?
Key fobs contain complex electronics and are designed for security. They often require specialized equipment and programming, which can contribute to their cost. Additionally, some fobs have advanced features.
4. What to do if you lose your key fob?
If you lose your key fob, it's important to have it replaced promptly to maintain your car's security. Contact a locksmith or your car's dealership to get a new one programmed to your vehicle.
5. Can you program a key fob without a dealership?
Yes, many locksmiths have the equipment and expertise to
program key fobs
. It's often a more cost-effective option compared to dealership services. Be sure to choose a reputable locksmith for this task.