Ignition Replacement and Repair Service in Los Angeles
In the bustling city of Los Angeles, car troubles are the last thing you need. When your ignition starts acting up, it's not only inconvenient but can also leave you stranded. That's where LACA Locksmith Guys steps in. Our mobile ignition replacement and repair services are designed to offer prompt and efficient solutions, ensuring you can get back on the road without a hitch.
Mobile Ignition Replacement and Repair Service in Los Angeles
Facing ignition problems? Our mobile ignition repair service ensures you don't get stranded. Whether it's a faulty switch or a damaged ignition cylinder, our technicians diagnose and fix issues efficiently, restoring your vehicle's functionality. At LACA Locksmith Guys we understand the frustration of ignition issues. Our auto mobile services bring the solution directly to you, saving time and eliminating the hassle of towing your vehicle.
Our experienced team is equipped to handle key ignition replacements for a wide range of vehicle makes and models. We use cutting-edge technology to ensure your new ignition system functions seamlessly with your specific vehicle requirements.
Quality Auto Ignition Replacement
Ignition Repair: Is your car struggling to start, or do you hear strange noises when turning the key? These could be signs of ignition problems. Our expert technicians specialize in diagnosing and repairing ignition issues on the spot. Using advanced diagnostic tools, we pinpoint the problem, providing efficient and effective solutions to get you back behind the wheel.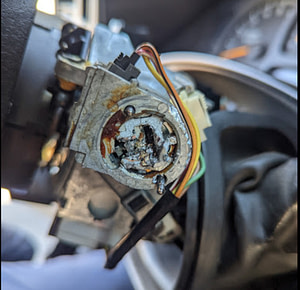 Ignition Lock Replacement: For situations where the ignition lock is faulty or damaged, a replacement might be necessary. Our team is well-versed in handling ignition lock replacements for various vehicle makes and models. We understand the intricacies of different systems and ensure a seamless integration with your car's specifications.
Car Ignition Replacement: In some cases, a comprehensive car ignition replacement might be the best course of action. Whether due to wear and tear or irreparable damage, our technicians are equipped to carry out swift and reliable car ignition replacements. We prioritize using high-quality components to ensure the longevity and performance of your new ignition system.
Ignition Key Extraction: If you've broken your car key off in the ignition or a door lock, it can be a frustrating and stressful experience. Attempting to extract the broken key yourself can often make the problem worse, causing damage to the lock or ignition. Our team of experts can safely extract the broken key without causing any further damage to your vehicle. We use specialized tools and techniques to carefully remove the broken key, and can provide replacement keys on-site if needed.
Common Cars Prone to Break-ins and Ignition Damage: Chevrolet, Kia, Hyundai, Ford, Toyota and more
In urban areas like Los Angeles, certain car models are unfortunately more susceptible to break-ins, with thieves often attempting to damage the ignition in an effort to start the vehicle. Among the most commonly targeted brands are Chevrolet, Kia, Hyundai, and Ford. While these manufacturers produce reliable and popular cars, their prevalence can make them a target for theft attempts.
Thieves often target these vehicles due to factors such as ease of access, outdated security features, or high demand for their parts in the black market. To mitigate the risk of theft and ignition damage, owners of Chevrolet, Kia, Hyundai, and Ford vehicles are encouraged to stay vigilant, park in well-lit areas, and consider additional security measures such as steering wheel locks or alarm systems.
Honda Cars and Ignition Issues: Overcoming Dust and Stuck Tumblers
Honda cars, known for their reliability, can face a unique issue related to the ignition system. Over time, especially in dry and dusty environments, the tumblers inside the ignition cylinder may accumulate dust and debris. This can lead to difficulty turning the key in the ignition, causing frustration for the vehicle owner.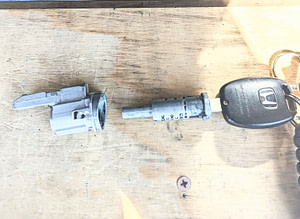 To address this issue proactively, owners of Honda cars can consider regular maintenance that includes cleaning and lubricating the ignition components. Additionally, keeping the key and ignition area free from debris can help prevent the accumulation of dust. If you find yourself struggling with a Honda ignition that won't turn smoothly, seeking professional locksmith assistance can provide a quick and effective solution.
For both sets of vehicles, staying informed about potential security risks and being proactive in addressing any ignition-related issues is crucial. Regular maintenance and awareness of common problems can go a long way in ensuring the security and longevity of your vehicle's ignition system.
Why Choose LACA Locksmith Guys for Ignition and Car Door Locks Repair / Replacement Services?
Expertise: Our technicians are highly trained and have years of experience in repairing and replacing ignitions and car door locks.
High-quality equipment: We use the latest diagnostic tools and equipment to ensure accurate and efficient repair and replacement services.
Affordable pricing: We offer competitive pricing for our ignition and car door lock repair and replacement services.
Emergency services: We understand that ignition and car door lock issues can happen at any time. That's why we offer emergency services to ensure that you're never stranded without transportation.
Convenient mobile services: Our mobile locksmith services allow us to come to you, wherever you are. We can repair or replace ignitions and car door locks at your home, office, or even on the side of the road.
Contact Us Today for Ignition and Car Door Locks Repair / Replacement Services
If you're experiencing issues with your vehicle's ignition or car door locks, don't hesitate to contact the experts at LACA Locksmith Guys. Our skilled technicians are available 24/7 to provide fast and reliable repair and replacement services.
Contact us today to schedule an appointment or to learn more about our services. You can call us at (424) 353-4999 or fill out our online contact form, and we'll get back to you as soon as possible.