Doorbird Installation Services: Enhance Security and Convenience with LACA Locksmith Guys
Welcome to LACA Locksmith Guys, your trusted provider of professional Doorbird installation services. With our expertise and commitment to excellence, we offer seamless and reliable installation solutions for Doorbird devices. In this comprehensive guide, we will explore the features of Doorbird, the benefits of choosing our installation service, and provide answers to frequently asked questions about Doorbird installation.
What is Doorbird and Why Choose Our Installation Service?
Doorbird is a cutting-edge smart video doorbell system that allows you to monitor and control access to your property from anywhere using your smartphone or tablet. With its advanced features such as HD video recording, two-way audio communication, and motion detection, Doorbird provides enhanced security and convenience for homeowners and businesses alike.
At LACA Locksmith Guys, we understand the importance of proper installation to maximize the functionality and effectiveness of your Doorbird device. Our team of skilled technicians has extensive experience in installing Doorbird systems, ensuring seamless integration with your existing security infrastructure. By choosing our professional installation service, you can trust that your Doorbird will be installed correctly and optimized for optimal performance.
Enhanced Security: Safeguarding your home and loved ones is paramount, and with Doorbird, you can elevate your security measures to a whole new level. By enabling real-time video and audio communication with visitors, even when you're away, you gain the power to verify and control access to your property effectively.
Remote Access: The Doorbird mobile app empowers you with seamless remote access to your Doorbird system from anywhere in the world. Whether you're at the office, running errands, or enjoying a vacation, you can receive instant notifications when someone is at your door and conveniently see and communicate with them in real-time. This level of flexibility and control brings you peace of mind and ensures that you never miss an important visitor.
Video Recording: Doorbird's cutting-edge HD camera captures crystal-clear video footage of all visitor activity at your doorstep. This invaluable feature not only enables you to review past interactions but also serves as a robust deterrent against potential intruders. In the unfortunate event of any security breaches or incidents, you'll have a reliable record that can assist law enforcement or insurance claims.
Integration with Smart Home Systems: Seamlessly integrating with various smart home systems, Doorbird becomes an integral part of your comprehensive security ecosystem. By connecting it to your existing smart devices, such as door locks, lighting, and surveillance systems, you can create a synchronized and responsive network that enhances your home's overall security. Unlock doors, turn on lights, or activate other automated actions when someone approaches your doorstep, all controlled conveniently through a single interface.
Convenience and Ease of Use: Doorbird is designed with user-friendly features that prioritize convenience. The intuitive mobile app allows for effortless navigation, quick access to features, and easy customization of settings to suit your preferences. The installation process is straightforward, and our team of experienced technicians at LACA Locksmith Guys ensures a seamless setup, ensuring that you can enjoy the benefits of Doorbird without any hassle.
Our Doorbird Installation Process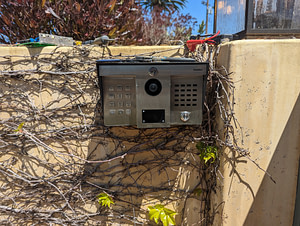 Consultation: We will start by understanding your specific requirements and assessing your property's layout to determine the best placement for your Doorbird device.
Installation: Our skilled technicians will professionally install and mount the Doorbird device, ensuring proper alignment, connection, and functionality. We will also configure the device to integrate with your smartphone or tablet.
Network Setup: We will connect your Doorbird device to your home or business network, ensuring a stable and secure connection for seamless remote access.
System Integration: If desired, we can integrate your Doorbird device with existing security systems or smart home platforms, maximizing the functionality and convenience of your overall security setup.
Testing and Training: Once the installation is complete, we will thoroughly test the system to ensure everything is working correctly. We will also provide you with a tutorial on how to use your Doorbird device and its features effectively.
Frequently Asked Questions about Doorbird Installation
Is professional installation necessary for Doorbird?
While some users may attempt DIY installation, professional installation ensures proper placement, alignment, and configuration of your Doorbird device. This ensures optimal performance and functionality.
How long does the installation process take?
The installation time may vary depending on the complexity of the project and the specific requirements of your property. Our technicians strive to complete the installation efficiently while maintaining high-quality standards.
Can Doorbird be integrated with my existing security system?
Yes, Doorbird can be integrated with various security systems and smart home platforms. Our technicians can assess your setup and provide recommendations on the best integration options.
What happens if I experience issues with my Doorbird device after installation?
At LACA Locksmith Guys, we stand by the quality of our work. If you experience any issues with your Doorbird device after installation, simply contact us, and our team will promptly address and resolve the problem.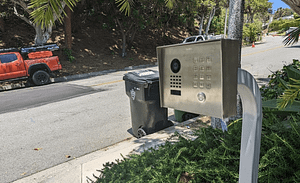 Conclusion
At LACA Locksmith Guys, we are dedicated to providing professional Doorbird installation services that enhance the security and convenience of your property. Our skilled technicians and commitment to excellence ensure a seamless installation experience. Contact us today to schedule your Doorbird installation and experience the benefits of this advanced smart video doorbell system.
For unparalleled security, convenience, and peace of mind, trust LACA Locksmith Guys to install your Doorbird system. Contact us today to schedule a consultation and take the first step towards enhancing the security of your home with Doorbird.